My favorite thing ever made. From 100% scratch. Black soft fabric with dark red knit contrast fabric. Eyelet tape on sides for lacing.


My most recent and long awaited penguin zipup hoodie. Flannel gray fabric with mini penguins and red and green dots. Lining is a soft thick black fleece. Inside of sleeves are the only thing not lined.


Adorable retro flowered tank top with a yellow hood. Raw edged. Very cute.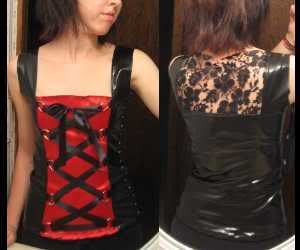 Top I made for Halloween/everyday. Black pleather with red satin contrast. D-Rings, each strap sewn by hand. Lace back panel. Hook and eye tape used for closure on side.


Blue swoop neck top with extra long yellow sleeves. Soft and stretchy. Favorite!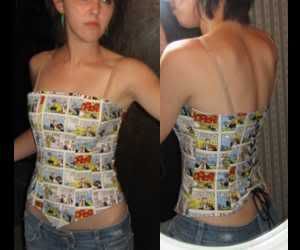 My first corset. Cotton Popeye comic fabric, interfacing, and boning. Fragile, but adorable and great for the first one.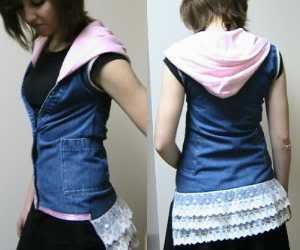 Cute denim jacket sewing project. Cute beaded trim around armholes, adorable side pockets I sewed on, ruffles covering bottom, and a soft pink hood. Was a favorite.




| | |
| --- | --- |
| | Adorable plaid top with vertical darts on the front bust, and on back. Zips on side. Raw edged gather at waist/hips. $13 |
| | |
| --- | --- |
| | This was a test project working with knit and making a tube top. Cute retro flower knit fabric, side panel is tan knit. Price is low because it is a test and the top pink hem is fragile. Raw edges on bottom. $8 |